Biography
Arun Mahankali Sridhar, M.D., M.P.H., is a cardiac electrophysiologist and specialist in heart rhythm disorders at UW Medical Center's Cardiac Clinic and faculty in the Division of Cardiology at the University of Washington.

Dr. Sridhar strives to create active partnerships with his patients to achieve the best possible outcomes.

Dr. Sridhar's clinical interests include patients with both rapid and slow heart rhythm disorders, as well as patients with a risk of sudden cardiac death. He has comprehensive expertise in management of arrhythmias, including complex catheter ablations for atrial fibrillation; supraventricular and ventricular tachycardia; stroke prevention in atrial fibrillation, including left atrial appendage closure; cardiac device therapy, including implantation of cardiac pacemakers; implantable cardiac defibrillators (ICDs) and cardiac resynchronization therapy (CRT).

Dr. Sridhar's research focuses on improving mapping and ablation techniques in complex tachycardias. He collaborates with the UW bio-engineering department on various innovation projects to improve the care of heart rhythm patients.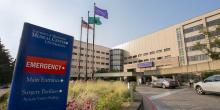 1959 NE Pacific St., 3rd Floor Seattle, WA 98195
Adult congenital heart disease, Advanced heart failure and transplant cardiology, Behavioral healthcare, Cancer care and your heart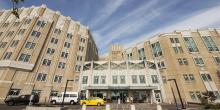 325 9th Ave., Ground East Clinic Seattle, WA 98104
Advanced heart failure and transplant cardiology, Cardiac electrophysiology-arrhythmia, Cardiac stress tests and monitoring, Cardiology (cardiovascular disease)
Cleveland Clinic Foundation
Fellowship, 2017, Electrophysiology
University of Kansas Medical Center
Fellowship, 2015, Cardiovascular Disease
Georgetown Univ. Hospital - Washington Hospital Center
Residency, 2012, Internal Medicine
Georgetown Univ. Hospital - Washington Hospital Center
Internship, 2010, Internal Medicine
University of Alabama-Birmingham
Master, 2009
Gandhi Medical College
Medical Education, 2006
Board Certifications
Clinical Cardiac Electrophysiology, 2017, American Board of Internal Medicine
Cardiovascular Disease, 2015, American Board of Internal Medicine
Internal Medicine, 2013, American Board of Internal Medicine