Biography
Bryce Robinson, M.D., M.S., F.A.C.S., F.C.C.M., is a board-certified surgeon and associate medical director for Critical Care at Harborview Medical Center and a UW associate professor of Surgery.

Dr. Robinson focuses on the care of the critically ill and injured. He believes that every patient deserves world-class care.

Dr. Robinson earned his M.D. from the University of Cincinnati. He is board certified in Surgery and Surgical Critical Care. He is a fellow of the American College of Surgeons and the American College of Critical Care Medicine. He is a member of the American Association for the Surgery of Trauma, the Eastern Association for the Surgery of Trauma and the Society for Critical Care Medicine. Dr. Robinson conducts clinical research defining strategies to prevent lung injury after severe injury or critical surgical illness.
Personal Interests
In his free time Dr. Robinson enjoys spending time with family, travel and automobile racing.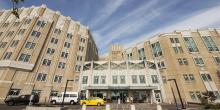 410 9th Avenue Maleng Building, 7th Floor Seattle, WA 98104
Emergency medicine, General surgery, Trauma care
Univ. of Cincinnati College of Medicine
Master, 2015
Univ. of Cincinnati College of Medicine
Fellowship, 2007, Surgical Critical Care
Rush University Medical Center Dept of Surgery
Residency, 2006, General Surgery
Rush University Medical Center Dept of Surgery
Internship, 2002, General Surgery
Univ. of Cincinnati College of Medicine
Medical education, 2001
Board Certifications
Surgical Critical Care, 2007, American Board of Surgery
Surgery, 2007, American Board of Surgery