Biography
Chad Crowley, C.O., L.P.O., is a board certified orthotist/prosthetist at Harborview, UW Medicine and the Eastlake Prosthetics and Orthotics Clinic.

Crowley's patient care philosophy is to patiently listen to his patients needs and concerns to provide the best functional orthotic and prosthetic outcome. He specializes in all types of upper and lower extremity orthotic care. He has extensive experience with orthotic polio and SCI management.

Crowley received his medical education at the UW. He is associated with the Prosthetics and Orthotics curriculum at the University of Washington, providing student instruction and mentoring. His interests include the latest emerging technologies with orthotic materials and management.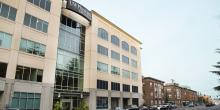 501 Eastlake Ave. E Seattle, WA 98109
Orthotics, Osteoporosis, Prosthetics
University of Washington Medical School
Medical Education, 1987, Orthotics
Board Certifications
Orthotics, 1989, Amer. Board for Cert. In Orthotics and Prosthetics