Biography
Christina Fitzmaurice, M.D., M.P.H. is a board certified hematologist at the Oncology Clinic at Harborview and a UW assistant professor of Medicine and Hematology.
Dr. Fitzmaurice strives to deliver the same level of care that she expects for her own family. Apart from up-to-date knowledge and a team approach, this includes compassionate and individualized patient care. Her goal is to understand what is important for patients and to educate them about their options so they can choose what is appropriate for them.
Dr. Fitzmaurice earned her M.D. from the University of Heidelberg, Germany and her M.P.H. from Johns Hopkins. She is board certified in both Internal Medicine and Hematology. Her research interest is in global oncology, healthcare disparities and outcomes research.
Personal Interests
In her free time Dr. Fitzmaurice enjoys spending time with her husband and daughter, hiking and long-distance biking. She also frequently travels with her family to Germany where she grew up.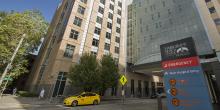 410 9th Ave., 7th Floor Seattle, WA 98104
Cancer care, Hematology, Medical oncology, Oncology
UW - Hematology-Oncology Fellowship Program
Fellowship, 2015, Hematology & Oncology
University of Wisconsin-Dept. of Medicine
Residency, 2012, Internal Medicine
University of Wisconsin-Dept. of Medicine
Internship, 2010, Internal Medicine
Johns Hopkins Bloomberg School of Public Health
Master Public Health, 2009
University of Heidelberg
Medical education, 2008
Albert-Ludwig-University
Medical education, 2003
Board Certifications
Hematology (Int Med), 2015, American Board of Internal Medicine
Internal Medicine, 2012, American Board of Internal Medicine