Biography
Dana Klanderud is a Cardiovascular ARNP Fellow at the University of Washington Medical Center (UWMC). She earned her bachelor's degree from the University of Utah in Salt Lake City and her Doctor of Nursing Practice degree at the University of Washington. Dana spent several years in cardiac critical care as a registered nurse, and is looking forward to continuing her training in the cardiovascular specialties as an advanced registered nurse practitioner (ARNP).

Clinical interests include advanced heart failure, advanced heart failure, electrophysiology, and heart disease.
Personal Interests
Cooking, eating, hiking, running, and traveling.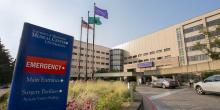 1959 NE Pacific St., 3rd Floor Seattle, WA 98195
Adult congenital heart disease, Advanced heart failure and transplant cardiology, Behavioral healthcare, Cancer care and your heart
Univ. of Washington
Medical Education, 2017
UW - Cardiovascular ARNP Fellowship
Fellowship, Cardiovascular Disease
Board Certifications
Family Nurse Practitioner, 2017, American Nurses Credentialing Center