Biography
David A. Dichek, M.D., is a board certified cardiologist at the Cardiology Clinic at UW Medical Center, UW Medicine associate director of Cardiology Research, the UW's John L. Locke, Jr. Family Endowed Chair in Cardiovascular Research, a UW professor of Medicine and Cardiology and an adjunct professor of Cardiology.

Dr. Dichek strives to create active partnerships with his patients to achieve the best possible outcomes.

Dr. Dichek earned his M.D. from UCLA. He is board certified in both Cardiovascular Disease and General Internal Medicine. His clinical interests include coronary artery disease, valvular heart disease and preventive cardiology. His research interests include vascular biology with a focus on the contributions of the plasminogen-plasminogen activator system and transforming growth factor-beta to vascular disease; gene transfer to blood vessels; and gene therapy for cardiovascular disease.
Personal Interests
In his spare time, Dr. Dichek enjoys bicycle touring, reading Shakespeare and watching French cinema and classic films.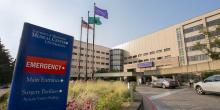 1959 NE Pacific St., 3rd Floor Seattle, WA 98195
Adult congenital heart disease, Advanced heart failure and transplant cardiology, Behavioral healthcare, Cancer care and your heart
UCLA Medical Center
Medical education, 1984
Johns Hopkins University SOM
Fellowship, Cardiology
National Institutes of Health
Fellowship, Cardiovascular Disease
Massachusetts General Hospital
Fellowship, Cardiology
Massachusetts General Hospital
Residency, Internal Medicine
Massachusetts General Hospital
Internship, Internal Medicine
Board Certifications
Cardiovascular Disease, 1993, American Board of Internal Medicine
General Internal Medicine, 1987, American Board of Internal Medicine