Biography
David S. Owens M.D., M.S., is a cardiologist specializing in inherited heart disorders, hypertrophic cardiomyopathy and sports cardiology. Dr. Owens also directs the UW Cardiovascular Genetics and Hypertrophic Cardiomyopathy clinics and is a UW assistant professor of Cardiology.
Dr. Owens believes in creating active partnerships with his patients to achieve the best possible outcomes.
Dr. Owens earned his M.D. from Washington University in St. Louis and his M.S. from the UW. He is board-certified in cardiovascular diseases.
Dr. Owens' clinical interests include genetic cardiomyopathies, sports cardiology and echocardiography. His research interests include cardiovascular genetics, hypertrophic cardiomyopathy, cardiovascular screening and sudden death in athletes.
Personal Interests
Dr. Owens relaxes by spending time with his family, playing soccer, running, hiking, reading and studying philosophy.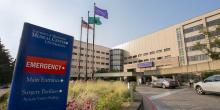 1959 NE Pacific St., 3rd Floor Seattle, WA 98195
Adult congenital heart disease, Advanced heart failure and transplant cardiology, Behavioral healthcare, Cancer care and your heart
UW - Division of Cardiology
Fellowship, 2009, Cardiovascular Medicine
NIH-NHLBI, Cardiovascular Branch
Fellowship, 2005
Washington University SOM
Teaching Appointment, 2002, Cardiology
Barnes Jewish Hospital
Residency, 2001, Internal Medicine
Barnes Jewish Hospital
Internship, 1999, Internal Medicine
Washington University SOM
Medical education, 1998