Biography
Edward Strachan, C.P.O., is a certified prosthetist/orthotist at UW Medical Center.

Strachan provides prosthetic and orthotic care that matches the specific needs of each person. He is motivated to improve health by providing equal access to high quality and comprehensive prosthetic and orthotic care. He specializes in both arm and leg prostheses as well as advanced orthotic solutions. He believes that helping patients get back to their healthy and active lives is achieved through thoughtful and attentive communication.

Strachan received his medical education at the UW. He has ten years of clinical experience and training in advanced technologies. His clinical and research interests include how orthotic and prosthetic care improves the health of populations.
Personal Interests
In his free time, Strachan enjoys running, backpacking, cycling, curling, skiing and cooking.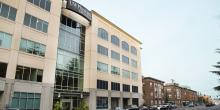 501 Eastlake Ave. E Seattle, WA 98109
Orthotics, Osteoporosis, Prosthetics
University of Washington
Medical education, 2007, Prosthetics