Biography
Elina Minami, M.D., is a board certified physician at the Cardiology Clinic at UW Medical Center and a UW associate professor of Medicine and Cardiology.

Dr. Minami is an expert in the management of advanced heart failure and cardiac transplantation. She employs a patient-centered approach in managing her patients' care, working with them to find balance in living with a chronic condition.

Dr. Minami earned her M.D. from the George Washington University in Washington, D.C. She is board certified in both Cardiology and in Advanced Heart Failure/Cardiac Transplantation. Her clinical interests include the management of pulmonary hypertension, advanced heart failure and cardiac transplantation. Her research interests include stem-cell based therapies in cardiac repair and research in antibody-mediated rejection.
Personal Interests
When not practicing medicine, Dr. Minami enjoys playing piano, dancing, bicycling, cooking and traveling.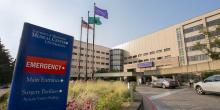 1959 NE Pacific St., 3rd Floor Seattle, WA 98195
Adult congenital heart disease, Advanced heart failure and transplant cardiology, Behavioral healthcare, Cancer care and your heart
UW - Division of Cardiology
Fellowship, 2003, Cardiology
Oregon Health & Science University
Residency, 1999, Internal Medicine
Oregon Health & Science University
Internship, 1996, Internal Medicine
George Washington University -SOM
Medical education, 1995
Board Certifications
Advanced Heart Failure and Transplant Cardiology, 2012, American Board of Internal Medicine
Cardiovascular Disease, 2002, American Board of Internal Medicine