Biography
Elizabeth Bayley, M.S.N., A.R.N.P., is a nurse practitioner at UW Medicine's Cardiac Clinic.

Bayley specializes in adult congenital heart disease. As a provider, her highest priority is to provide a sense of empowerment, that patients feel they are being truly heard, one person at a time. Giving patients a sense of their care plan—what happens next, to demystify the process—is also incredibly rewarding.

Bayley earned her MSN from Seattle University, with recognition given by the Sigma Theta Tau Honor Society of Nursing. She is bilingual in English and Spanish. In addition to seeing patients in the outpatient setting, Bayley also supervises cardiopulmonary exercise testing. Bayley's areas of clinical and research interest include transition of care from pediatric to adult service, adult congenital heart disease, family planning and pregnancy care as well as palliative care.
Personal Interests
In her free time Bayley enjoys hiking, sea kayaking, boxing, sailing, music, and spending time with her family.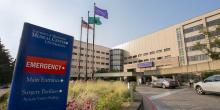 1959 NE Pacific St., 3rd Floor Seattle, WA 98195
Adult congenital heart disease, Advanced heart failure and transplant cardiology, Behavioral healthcare, Cancer care and your heart
Seattle University
Medical Education, 2004
Board Certifications
Nurse Practitioner, 2004, American Nurses Credentialing Center