Biography
Eric Krieger, M.D., F.A.C.C., is a board certified Adult Congenital Heart Disease Cardiologist at UW Medicine's Cardiology Clinic and a UW Associate Professor of Medicine in the Division of Cardiology. He directs the Adult Congenital Heart Disease training program and is Associate Director of UW Medicine's Adult Congenital Heart Disease Program. He practices at the University of Washington and Seattle Children's Hospital.

Dr. Krieger specializes in the care of adults born with heart defects. He strives to create active partnerships with his patients to achieve the best possible outcomes.

Dr. Krieger earned his M.D. from Mount Sinai School of Medicine in New York.
Personal Interests
In his spare time, Dr. Krieger enjoys an active lifestyle outdoors with skiing, biking, climbing and hiking.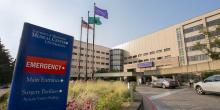 1959 NE Pacific St., 3rd Floor Seattle, WA 98195
Adult congenital heart disease, Advanced heart failure and transplant cardiology, Behavioral healthcare, Cancer care and your heart
Children's Hospital Boston
Fellowship, 2011, Adult Congenital Heart Disease
UW - Division of Cardiology
Fellowship, 2009, Cardiovascular Disease
Mount Sinai School of Medicine
Residency, 2006, Chief Resident
Mount Sinai School of Medicine
Residency, 2005, Internal Medicine
Mount Sinai School of Medicine
Internship, 2003, Internal Medicine
Icahn School of Medicine at Mount Sinai
Medical education, 2002
Board Certifications
Adult Congenital Heart Disease, 2017, American Board of Internal Medicine
Cardiovascular Disease, 2010, American Board of Internal Medicine