Biography
Giana Davidson, M.D., M.P.H., F.A.C.S., is a board certified surgeon, chief of Emergency General Surgery, medical director for Post-Acute Care and Readmission Reduction Strategy and associate medical director at UW Medical Center and a UW associate professor of Surgery and an adjunct associate professor of Health Services.

Dr. Davidson offers emergency general surgical care, surgical management of gastrointestinal disorders, complex hernia repair and end-of-life care. Her work has focused on improving the quality and equity of care delivered across our healthcare system and to better understand our patients' experience and meaningful clinical outcomes.

Dr. Davidson earned her M.D. and M.P.H. at the UW. She is an NIH, PCORI, and CMS funded health services researcher at the Surgical Outcomes Research Center focusing on improving transitions of care and long-term outcomes for patients following hospital admission and for acute care surgical conditions.
Personal Interests
In her free time Dr. Davidson enjoys hiking, skiing, raising her small flock of chickens, cooking and spending time with her husband and young children.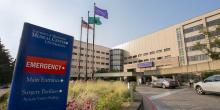 1959 NE Pacific St., 3rd Floor Seattle, WA 98195
General surgery
UW - Dept. of Surgery
Residency, 2013, General Surgery
Univ. of Washington, School of Public Health & Community Medicine
Master Public Health, 2010, Epidemiology
UW - Dept. of Surgery
Internship, 2007, General Surgery
Univ. of Washington, School of Medicine
Medical education, 2006
Board Certifications
General Surgery, 2014, American Board of Surgery