Biography
Grant O'Keefe, M.D., M.P.H., is a professor of Surgery and adjunct professor of Neurological Surgery, Orthopedics and Sports Medicine. He is based at Harborview Medical Center, where he provides surgical and intensive care services to patients with emergencies and general surgical conditions.

Dr. O'Keefe particularly likes to work with patients who have challenging surgical conditions, whether related to emergencies or due to surgical conditions of the gastrointestinal tract and abdomen. He believes it's important to discuss options and likely outcomes with patients and their loved ones, even in emergency situations.

He received his M.D. at the University of Alberta. His M.P.H. was obtained from the UW. He is a fellow of the American College of Surgeons and board certified in surgery and surgical critical care.




Personal Interests
Dr. O'Keefe enjoys cycling, backpacking and reading.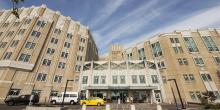 410 9th Avenue Maleng Building, 7th Floor Seattle, WA 98104
Emergency medicine, General surgery, Trauma care
Univ. of Alberta Faculty of Med.
Medical education, 1988
UW - Dept. of Surgery
Fellowship, General Surgery
Memorial Univ. of Newfoundland
Internship
Univ. of Alberta Faculty of Medicine
Residency, General Surgery
Board Certifications
Surgical Critical Care, 2001, American Board of Surgery
Surgery, 2000, American Board of Surgery