Biography
Gregory A. Wood, M.D. is a clinical assistant professor in the Division of Cardiology at the University of Washington. Dr. Wood is board-certified in internal medicine and cardiovascular disease. He has special interest in heart failure with focus on advanced therapies including heart transplantation and mechanical circulatory support. His clinical interests include general cardiology, advanced heart failure and transplant cardiology.
Dr. Wood understands a diagnosis of heart failure, particularly in the end stages of the disease process, can be stressful and, at times, overwhelming for both patients and their families. Therefore, he believes it is important to empower patients to become active participants in their care through emotional support and education, so they can make informed decisions along the way.
Personal Interests
When away from medicine, Dr. Woods enjoys cycling, hiking, cooking and spending time with his family.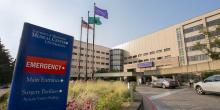 1959 NE Pacific St., 3rd Floor Seattle, WA 98195
Adult congenital heart disease, Advanced heart failure and transplant cardiology, Behavioral healthcare, Cancer care and your heart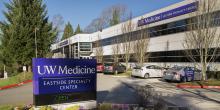 3100 Northup Way Bellevue, WA 98004
Advanced heart failure and transplant cardiology, Cardiac stress tests and monitoring, Cardiology (cardiovascular disease), Cardiovascular imaging
UW - Division of Cardiology
Fellowship, 2015, Advanced Heart Failure & Transplant Cardiology
UW - Division of Cardiology
Fellowship, 2014, Cardiovascular Medicine
Univ. of Illinois - Chicago
Fellowship, 2013, Cardiovascular Medicine
Univ. of Calif. Davis-Internal Med. Program
Residency, 2010, Internal Medicine
Univ. of Calif. Davis-Internal Med. Program
Internship, 2008, Internal Medicine
University of Washington School of Medicine
Medical education, 2007
Board Certifications
Advanced Heart Failure and Transplant Cardiology, 2016, American Board of Internal Medicine
Cardiovascular Disease, 2014, American Board of Internal Medicine
Internal Medicine, 2011, American Board of Internal Medicine