Accepting new patients
Make an Appointment
Specialties
Brain tumors, Diagnostic radiology, Neurology, Neuroradiology, Radiology, Spine tumors, Sports medicine, Stroke care, Trauma care
Languages
English, Italian
Biography
Jalal Andre, M.D., D.A.B.R., is a board certified radiologist, director of neurological MRI and MRI safety officer at Harborview Medical Center and a UW associate professor of Radiology and Neuroradiology.

Dr. Andre strives for excellence in providing compassionate service for the people under his medical care, tailoring the care to equal what he would do for his own family members.

Dr. Andre earned his M.D. at Drexel University, Philadelphia. His research interests include the clinical application of advanced MRI techniques in assessing brain vessel abnormalities and traumatic brain injury.
Personal Interests
Dr. Andre balances his busy days by spending time with his family, enjoying music, and cycling local roads.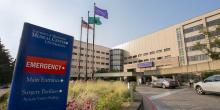 1959 NE Pacific St., 2nd floor Seattle, WA 98195
Colon cancer screening, Computed tomography (CT), Digital X-ray services (radiography), Interventional and diagnostic radiology
Drexel University College of Medicine
Medical education, 2004
Monmouth Medical Center ATTN: Internal Medicine Residency Program
Residency, Radiology
Albert Einstein Medical Center
Internship, Internal Medicine
Stanford University Medical Center
Fellowship, Neuroradiology
Board Certifications
Neuroradiology, 2012, American Board of Radiology
Diagnostic Radiology, 2009, American Board of Radiology