Biography
Jamie Sue Olaf, DNP is a board-certified nurse practitioner for the Department of Surgery in the division of Cardiothoracic Surgery and a UWMC Medical Staff adjunct. She specializes in the surgical and critical care management of patients with cardiac and thoracic diseases in addition to mechanical circulatory support device management.

Jamie completed her bachelor's degree in nursing from The College of St. Scholastica in Duluth, Minnesota and her Doctor of Nursing Practice from the University of Wisconsin – Eau Claire.

Jamie had over 10 years of bedside critical care nursing experience before becoming a nurse practitioner, including obtaining certifications both as a Critical Care Registered Nurse (CCRN) for adults in 2014 and Cardiac Surgery (CSC) through the AACN.

Jamie began her career as an advanced practice nurse within a Cardiovascular Intensive Care Unit caring for critically-ill cardiac and thoracic surgical patients, as well as heart failure management before joining UW Medicine.

Personal Interests
Olaf enjoys educating patients and their support systems during the stressful times of critical illness, to help create a positive and informative healing environment. Educating and mentoring nursing students is another passion she carries.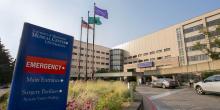 1959 NE Pacific St., 3rd Floor Seattle, WA 98195
Lung, esophageal and other chest cancer treatments
University of Wisconsin - Eau Claire
Medical Education, 2016, Family Nurse Practitioner
Board Certifications
Family Nurse Practitioner, 2016, American Nurses Credentialing Center
Family Nurse Practitioner, 2016, American Academy of Nurse Practitioners
Acute Critical Care Nursing, 2014, American Association of Critical Care Nurses