Biography
Jason Deen, M.D., is a board certified pediatric cardiologist at the Cardiology Clinic at UW Medical Center, a UW assistant professor of Pediatrics and an adjunct assistant professor of Medicine.

Dr. Deen enjoys participating in the care of patients with congenital heart disease across their entire lifespan—from the smallest newborn infant to the most experienced adult. The most rewarding aspect of his work is to help his patients and their families through challenging periods in their lives.

Dr. Deen earned his M.D. from the University of Minnesota. He is quadruple board certified in Adult Congenital Heart Disease, Pediatric Cardiology, Pediatrics and Internal Medicine. His research encompasses preventive cardiology and atherosclerotic risk stratification in children and adolescents. His work examines cardiovascular health disparities among minority populations.
Personal Interests
In his free time Dr. Deen enjoys hiking, bicycling, camping and homebrewing.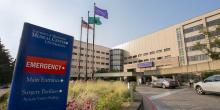 1959 NE Pacific St., 3rd Floor Seattle, WA 98195
Adult congenital heart disease, Advanced heart failure and transplant cardiology, Behavioral healthcare, Cancer care and your heart
University of Washington Medical Center
Fellowship, 2014
Seattle Children's Hospital/UW Medicine
Fellowship, 2013, Pediatric Cardiology
University of Minnesota Medical Center
Residency, 2010, Internal Medicine/Pediatrics
Georgetown University Hospital
Internship, 2007, Internal Medicine/Pediatrics
University of Minnesota School of Medicine
Medical education, 2006
Board Certifications
Adult Congenital Heart Disease, 2017, American Board of Internal Medicine
Internal Medicine, 2011, American Board of Internal Medicine