Accepting new patients
Make an Appointment
Specialties
Child abuse pediatrics, Diagnostic radiology, Neuro-oncology (brain cancer), Neuroradiology, Nuclear medicine, Pediatric neurology, Pediatric radiology, Primary care - pediatrics, Spinal cord injury (SCI)
Languages
English
Biography
Jason Wright, M.D. is a pediatric neuroradiologist at UW Medical Center, a UW assistant professor of Radiology and acting assistant professor of Pediatric Radiology.

Dr. Wright specializes in the imaging of children with epilepsy, brain tumors, strokes, and other disorders affecting the central nervous system. He approaches the imaging of each and every child as if they were his own son or daughter. He enjoys working with the entire clinical care team to ensure that every imaging study is the right one for the patient and their family.

Dr. Wright earned his M.D. from Chicago Medical School. His research interests are in the fields of epilepsy imaging, brain tumor imaging, malformations of brain development, and imaging of brain trauma. He is a nationally recognized lecturer in Pediatric Neuroradiology.
Personal Interests
Dr. Wright is an avid traveller and enjoys learning languages and interacting with different cultures and traditions. He has lived and worked throughout Africa, and continues to do educational outreach in Radiology in East Africa in my current position. He loves to ski, sail, scuba dive and practice yoga.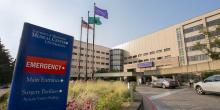 1959 NE Pacific St., 2nd floor Seattle, WA 98195
Colon cancer screening, Computed tomography (CT), Digital X-ray services (radiography), Interventional and diagnostic radiology
UW - Dept. of Pediatric Diagnostic Radiology
Fellowship, 2012, Pediatric Radiology
UW - Dept. of Pediatric Diagnostic Radiology
Fellowship, 2012, Pediatric Radiology
UW - Dept. of Radiology
Residency, 2011, Diagnostic Radiology
Legacy Emanuel Hospital and Health Center - Transitional Year Program
Internship, 2007, Radiology
Chicago Medical School (UHS)
Medical education, 2006
Board Certifications
Neuroradiology, 2018, American Board of Radiology
Pediatric Radiology, 2015, American Board of Radiology
Diagnostic Radiology, 2011, American Board of Radiology