Biography
Jeanne Poole, M.D., is a board certified physician at the Cardiology Clinic at UW Medical Center, director of UW Medicine Cardiac Electrophysiology and a UW professor of Cardiology and Medicine.

Dr. Poole sees patients with heart rhythm abnormalities or symptoms explainable by a heart rhythm abnormality and offers medical and procedural therapy when appropriate. She performs surgical placement of implantable pacemakers and defibrillators, and other procedures specific to the heart rhythm condition. She strives to create active partnerships with her patients to achieve the best possible outcomes.

Dr. Poole earned her M.D. at the UW. She is triple board certified in Clinical Cardiac Electrophysiology, Cardiovascular Disease and Internal Medicine. Her clinical interests include patients with heart rhythm disorders. Her research interests include prevention of sudden cardiac death through technological advancements.
Personal Interests
When not practicing medicine, Dr. Poole enjoys spending time with her family, skiing, walking, hiking and reading books.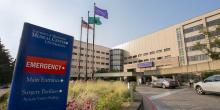 1959 NE Pacific St., 3rd Floor Seattle, WA 98195
Adult congenital heart disease, Advanced heart failure and transplant cardiology, Behavioral healthcare, Cancer care and your heart
UW - Division of Cardiology
Fellowship, 1986, Internal Medicine
UW - Division of General Internal Medicine
Residency, 1983, Internal Medicine
Univ. of Minnesota SOM
Internship, 1981, Internal Medicine
Univ. of Washington, School of Medicine
Medical education, 1980
Board Certifications
Clinical Cardiac Electrophysiology, 1992, American Board of Internal Medicine
Cardiovascular Disease, 1987, American Board of Internal Medicine
Internal Medicine, 1983, American Board of Internal Medicine