Biography
John Nakatsu, C.O., L.O., is a certified orthotist at Harborview and UW Medical Center.

Nakatsu specializes in orthotics and prosthetics. He strives to create active partnerships with his patients to achieve the best possible outcomes.

Nakatsu received his medical education at the UW. His clinical interests include acute trauma and polio bracing.
Personal Interests
In his free time Nakatsu enjoys spending time with family and dogs and mountain biking.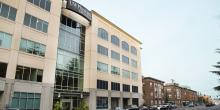 501 Eastlake Ave. E Seattle, WA 98109
Orthotics, Osteoporosis, Prosthetics
University of Washington Medical School
Medical education, 1989, Prosthetics
Board Certifications
Orthotics, 1991, Amer. Board for Cert. In Orthotics and Prosthetics