Accepting new patients
Make an Appointment
Specialties
Cardiac electrophysiology-arrhythmia, Cardiology (cardiovascular disease), Electrophysiology - arrhythmias, Primary care - internal medicine
Languages
English
Biography
Jordan M. Prutkin, M.D., M.H.S., is a Cardiac Electrophysiologist and Sports Cardiologist at the Heart Institute at UW Medical Center and a UW Associate Professor of Cardiology and Medicine.
Dr. Prutkin sees patients with a variety of heart rhythm disorders including atrial fibrillation (afib), atrial flutter, supraventricular tachycardia (SVT), Wolff-Parkinson-White (WPW), ventricular tachycardia, premature ventricular contractions (PVCs), and sudden cardiac arrest. He implants all types of pacemakers and implantable cardioverter defibrillators (ICDs) including His-bundle pacing, and is one of the most experienced implanters of leadless pacemakers and subcutaneous ICDs in the Northwest.
Dr. Prutkin's other clinical and research focus is the management of arrhythmias in athletes and exercisers. His goal is not to restrict patients, but to help them excel and live their best lives.
Personal Interests
In his spare time, Dr. Prutkin enjoys reading, music, Premier League soccer, baseball and spending time with his family.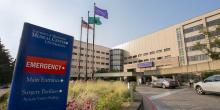 1959 NE Pacific St., 3rd Floor Seattle, WA 98195
Adult congenital heart disease, Advanced heart failure and transplant cardiology, Behavioral healthcare, Cancer care and your heart
UW - Division of Cardiology
Fellowship, 2009, Clinical Cardiac Electrophysiology
UW - Division of Cardiology
Fellowship, 2008, Cardiology
Johns Hopkins University SOM
Residency, 2005, Internal Medicine
Yale School of Medicine
Medical education, 2002
Duke University
Master, 2002
Board Certifications
Clinical Cardiac Electrophysiology, 2009, American Board of Internal Medicine
Cardiovascular Disease, 2008, American Board of Internal Medicine