Biography
Kelley Robert Branch, M.D., M.S., is an associate professor in the UW Division of Cardiology. He is also the director of Cardiovascular Clinical Trials at the UW and associate director of the Clinical Trials Service Unit that facilitates large international clinical trials.
Dr. Branch has been awarded the Cardiology Teaching Excellence Award and the UW School of Medicine Continuing Medical Education Teaching Award.
Dr. Branch's clinical research in international clinical trials and advanced cardiac imaging include CT scan, CT perfusion and fusion imaging, positron emission tomography/computed tomography imaging and echocardiography, CT use in the emergency room and sudden death patients, CT radiation dose reduction and myocardial perfusion.
Dr. Branch is board-certified in cardiovascular disease.

Personal Interests
Outside of medicine, Dr. Branch enjoys spending time with his wife and children, playing tennis and outdoor activities such as sailing and skiing.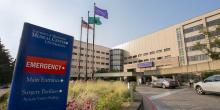 1959 NE Pacific St., 3rd Floor Seattle, WA 98195
Adult congenital heart disease, Advanced heart failure and transplant cardiology, Behavioral healthcare, Cancer care and your heart
Jefferson Medical College
Medical education, 1998
UW - Division of Cardiology
Fellowship, Cardiology
Univ. of Michigan Med. Ctr.
Internship, Internal Medicine
Univ. of Michigan Med. Ctr.
Residency, Internal Medicine
Board Certifications
Cardiovascular Disease, 2004, American Board of Internal Medicine