Biography
Kevin Douglas O'Brien, M.D., F.A.H.A., is a cardiologist at the Cardiology Clinic at UW Medical Center. Dr. O'Brien is also a UW professor of Medicine.

Dr. O'Brien believes in creating an active partnership with patients to deliver the best possible care.

Dr. O'Brien earned his M.D. at the UW. He is board certified in Internal Medicine and Cardiovascular Diseases. He is expert in congestive heart failure, cardiac transplantation and lipid disorders, with clinical experience in post-cardiac transplant care, congestive heart failure and cardiovascular risk modification and prevention. Dr. O'Brien's research interests include lipid disorders, diabetes and atherosclerosis, aortic valve disease pathogenesis and diabetic cardiomyopathy.
Personal Interests
When Dr. O'Brien isn't practicing medicine, he enjoys spending time hiking and traveling.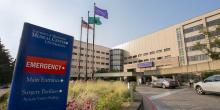 1959 NE Pacific St., 3rd Floor Seattle, WA 98195
Adult congenital heart disease, Advanced heart failure and transplant cardiology, Behavioral healthcare, Cancer care and your heart
Univ. of Washington, School of Medicine
Medical education, 1984
Veterans Adm. Med. Center(Seattle)
Fellowship, Medicine
Univ. of Washington
Internship, Medicine
Univ. of Washington
Residency, Medicine
Board Certifications
Advanced Heart Failure and Transplant Cardiology, 2014, American Board of Internal Medicine
Cardiovascular Disease, 1991, American Board of Internal Medicine
Internal Medicine, 1987, American Board of Internal Medicine