Biography
Kristen Patton, M.D., is a board certified physician at the Cardiology Clinic at UW Medical Center and a UW professor of Medicine and Cardiology.

Dr. Patton strives to create active partnerships with her patients to achieve the best possible outcomes.

Dr. Patton earned her M.D. from Oregon Health Sciences University, Portland. She is board certified in Cardiac Electrophysiology, Cardiovascular Disease and Internal Medicine. Her clinical interests include diagnosis and management of heart rhythm disorders, evaluation for individuals at risk for cardiac arrest and implantation and management of cardiovascular implantable devices.
Personal Interests
In her free time, Dr. Patton enjoys reading, hiking, cooking for friends and learning to throw so she can pitch a ball to small children, .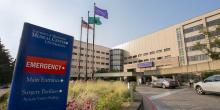 1959 NE Pacific St., 3rd Floor Seattle, WA 98195
Adult congenital heart disease, Advanced heart failure and transplant cardiology, Behavioral healthcare, Cancer care and your heart
Oregon Health & Science University
Medical education, 1995
Massachusetts General Hospital
Fellowship, Clinical Cardiac Electrophysiology
Massachusetts General Hospital
Fellowship, Cardiology
Massachusetts General Hospital
Internship, Internal Medicine
Massachusetts General Hospital
Residency, Internal Medicine
Board Certifications
Clinical Cardiac Electrophysiology, 2005, American Board of Internal Medicine
Cardiovascular Disease, 2002, American Board of Internal Medicine
Internal Medicine, 1998, American Board of Internal Medicine