Biography
Kristina F. Ramilo is a board certified Acute Care Nurse Practitioner with the Division of Cardiothoracic Surgery in the intensive care unit. She earned her bachelor's degree at the University of Hawaii in nursing, then proceeded to obtain her Doctor in Nursing Practice at the University of Pittsburgh, specializing in critical care medicine.

Clinical interests include critical Care, ECLS/ECMO, Surgical Critical Care, Transplant.

Research interests include delirium in the ICU, long term effects of prolonged sedation and analgesia, and the impact of quality improvement measures on patient outcomes.
Personal Interests
Hiking, backpacking, snowboarding, surfing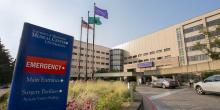 1959 NE Pacific St., 3rd Floor Seattle, WA 98195
Adult congenital heart disease, Advanced heart failure and transplant cardiology, Behavioral healthcare, Cancer care and your heart
University of Pittsburgh School of Nursing
Medical Education, 2017
Board Certifications
Nurse Practitioner, 2017, American Nurses Credentialing Center