Biography
Mukta Krane, M.D., F.A.C.S., is a board certified colorectal surgeon at SCCA, UW Medicine's chief of Colorectal Surgery and a UW associate professor of Surgery.

Dr. Krane is an expert in minimally invasive colon and rectal surgery, treatment of colorectal cancer and inflammatory bowel disease. She believes that patient care should be personalized, combining the patient's goals and beliefs with the latest evidence-based medicine and a focus on quality of life. Dr. Krane earned her M.D. at Mount Sinai School of Medicine, New York.

Dr. Krane is a member of multiple surgical associations and is serves on several committees for the American Society of Colon and Rectal Surgeons and the Society for Surgery of the Alimentary Tract.
Personal Interests
In her free time Dr. Krane enjoys hiking and photography.
1959 NE Pacific St., 3rd Floor Seattle, WA 98195
Anal Fistula, Colon and rectal surgery, Colon, rectal and anal cancers, Crohn's disease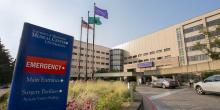 1959 NE Pacific St., 3rd Floor Seattle, WA 98195
General surgery
825 Eastlake Ave E. Seattle, WA 98109
Cancer care, Oncology
Univ. of Chicago Pritzker Sch of Med
Teaching Appointment, 2014
Lahey Clinic Medical Center
Fellowship, 2010, Colon & Rectal Surgery
Univ. of Chicago Dept. of Surgery
Residency, 2009, General Surgery
Univ. of Chicago Hospitals
Internship, 2003, General Surgery
Mount Sinai School of Medicine
Medical education, 2002
Board Certifications
Colon & Rectal Surgery, 2012, American Board of Surgery
Surgery, 2010, American Board of Surgery