Biography
Natasha Parman, D.P.T., P.T., O.C.S., is a physical therapist at UW Medicine's Physical Therapy Services at Eastside Specialty Center.

Dr. Parman specializes in orthopedics and in pelvic floor rehabilitation. Within pelvic floor rehabilitation, she focuses on treating women and children. Her goal is to help her patients return to the things they love to do so they can live their best life. She focuses on understanding the whole person, not just their physical condition.

Dr. Parman earned her D.P.T. at the University of Kansas. She is a member of the American Physical Therapy Association, and a delegate to House of Delegates with the Physical Therapy Association of Washington. She is a board certified Orthopedic Clinical Specialist through the American Board of Physical Therapy. She is a member of the International Children's Continence Society and the Gay and Lesbian Medical Alliance.
Personal Interests
In her free time Dr. Parman enjoys hiking, camping, playing ultimate Frisbee, reading and spending time with her family.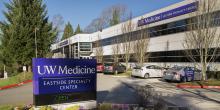 3100 Northup Way Bellevue, WA 98004
Hand therapy, Occupational therapy, Physical therapy
UNIVERSITY OF KANSAS MEDICAL CENTER
Medical Education, 2012, Physical Therapy
University of Kansas
Medical Education, 2009