Biography
Nicola Kaye, A.R.N.P., A.N.P.-B.C., A.C.N.P.-B.C., is a critical care nurse practitioner at the Cardiology Clinic at UW Medical Center and UW teaching associate of Surgery and affiliate instructor of Behavioral Nursing and Health Systems.

Kaye enjoys working with patients from diverse backgrounds and she strives to provide the highest standard of care for her patients, so they can achieve the best possible recovery after elective or emergency surgical procedures.

Kaye received her medical education from the UW. Her clinical interests include disease states of the aorta, including congenital, coronary and valvular disease. Her research interests are focused on emerging technologies.
Personal Interests
In her spare time, Kaye enjoys bicycling, hiking and reading.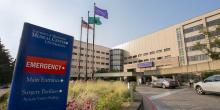 1959 NE Pacific St., 3rd Floor Seattle, WA 98195
Adult congenital heart disease, Advanced heart failure and transplant cardiology, Behavioral healthcare, Cancer care and your heart
Univ. of Washington, School of Nursing
Medical education, 2005
Board Certifications
Acute Care Nurse Practitioner, 2012, American Nurses Credentialing Center
Adult Health Nurse Practitioner, 2005, American Nurses Credentialing Center