Biography
Peter Kudenchuk, M.D., is a board certified cardiologist at the Cardiology Clinic at UW Medical enter and a UW professor of Cardiology, Cardiology Research and Medicine.

Dr. Kudenchuk strives to improve the quality of life for patients who have cardiac arrhythmias, by managing them pharmacologically and by implanting and managing heart rhythm devices such as pacemakers and defibrillators. He believes patients should be cared for with compassion and provided with clear, meaningful information that best allows them to make informed choices about their medical care.

Dr. Kudenchuk earned his M.D. from the UW. He is triple board certified in Clinical Cardiac Electrophysiology, Cardiovascular Disease and Internal Medicine. His clinical interests include sudden cardiac arrest and cardiac resuscitation.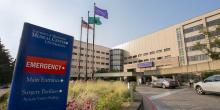 1959 NE Pacific St., 3rd Floor Seattle, WA 98195
Adult congenital heart disease, Advanced heart failure and transplant cardiology, Behavioral healthcare, Cancer care and your heart
Univ. of Washington, School of Medicine
Medical education, 1979
Oregon Health Sciences University and UW
Fellowship
UW - Division of General Internal Medicine
Residency, Medicine
UW- Division of General Internal Medicine
Internship, Medicine
Board Certifications
Clinical Cardiac Electrophysiology, 1992, American Board of Internal Medicine
Cardiovascular Disease, 1985, American Board of Internal Medicine
Internal Medicine, 1982, American Board of Internal Medicine