Biography
Becca Augsburger, P.A.-C., M.H.S., is a board certified physician assistant at UW Medical Center.

Augsburger specializes in cardiology. She strives to create active partnerships with her patients to achieve the best possible outcomes.

As a member of the Interventional Cardiology team at the UWMC Heart Institute, she enjoys working with patients and their families in hospital and clinic settings. Augsburger received her medical education at Duke.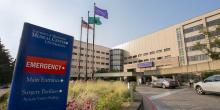 1959 NE Pacific St., 3rd Floor Seattle, WA 98195
Adult congenital heart disease, Advanced heart failure and transplant cardiology, Behavioral healthcare, Cancer care and your heart
Duke University SOM
Medical Education, 2018
Board Certifications
Physician Assistant, 2018, National Commission on Certification of Physician Assistant