Biography
Richard Cheng, M.D., M.Sc. is a UW associate professor of cardiology and an adjunct associate professor of radiology. Dr. Cheng is an expert in left ventricular dysfunction and cardiomyopathies, with specific focus on the following problems:
Heart failure and cardiomyopathies
Cardiac imaging
Cardio-oncology
Cardiac amyloidosis
Cardiac sarcoidosis
Heart transplantation
Mechanical circulatory support, including LVAD and total artificial hearts.
Dr. Cheng strives to create active partnerships with his patients to achieve the best possible outcomes and views his relationship with patients as a joint decision-making process, where patient education and involvement are critical to the healing process.
Dr. Cheng earned his M.D. from Columbia University and his M.Sc. in clinical investigation from UCLA. His research interests include clinical trials and development of novel treatment options for heart failure, cardiomyopathies, cancer treatment related cardiac dysfunction, post-heart transplant and mechanical circulatory support.
Personal Interests
When not practicing medicine, Dr. Cheng enjoys an active life of running, hiking and tennis. He also likes exploring new restaurants in the Seattle area and spending time with his family.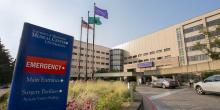 1959 NE Pacific St., 3rd Floor Seattle, WA 98195
Adult congenital heart disease, Advanced heart failure and transplant cardiology, Behavioral healthcare, Cancer care and your heart
UCLA Medical Center
Fellowship, 2013, Advanced Heart Failure & Transplant Cardiology
University of California, Los Angeles (UCLA)
Master, 2012
UCLA Medical Center
Fellowship, 2012
UCLA School of Medicine
Residency, 2008, Internal Medicine
UCLA Medical Center
Internship, 2006, Internal Medicine
Columbia University
Medical education, 2005
University of Washington
Teaching Appointment
Board Certifications
Advanced Heart Failure and Transplant Cardiology, 2014, American Board of Internal Medicine
Nuclear Cardiology, 2012, American Board of Nuclear Medicine
Cardiovascular Disease, 2012, American Board of Internal Medicine
Echocardiography, 2012, National Board of Echocardiography
Internal Medicine, 2008, American Board of Internal Medicine