Biography
Rosario Freeman M.D., M.S., is director of the UW Medicine Cardiovascular Noninvasive Laboratory, Echocardiography and Electrocardiography Services, director of UW Cardiology Fellowship Programs and a UW professor of Cardiology and Medicine.

Dr. Freeman is an expert in general cardiology, echocardiography and the management of valvular heart disease. She strives to create active partnerships with her patients to achieve the best possible outcomes.

Dr. Freeman earned her M.D. from Loyola University in Chicago and her M.S. at the University of Michigan, Ann Arbor. She is a fellow of the American College of Cardiology and is board certified in both Cardiovascular Disease and Echocardiography. Her clinical interests include general cardiology, echocardiography and valvular heart disease. Her research interests include medical education and echocardiography.
Personal Interests
In her spare time, Dr. Freeman enjoys spending time with her husband and son, hiking and scuba diving.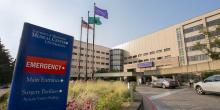 1959 NE Pacific St., 3rd Floor Seattle, WA 98195
Adult congenital heart disease, Advanced heart failure and transplant cardiology, Behavioral healthcare, Cancer care and your heart
Univ. of Michigan SOM
Master, 2001
Univ. of Michigan Medical Center
Fellowship, 2001, Cardiology
Univ. of Michigan Med. Ctr.
Residency, 1998, Internal Medicine
Univ. of Michigan Med. Ctr.
Internship, 1996, Internal Medicine
Loyola University Medical Center
Medical education, 1995
Board Certifications
Adult Transthoracic Plus Stress Echocardiography, 2007, National Board of Echocardiography
Cardiovascular Disease, 2001, American Board of Internal Medicine