Biography
Sherene Shalhub, M.D., M.P.H., is a board-certified vascular surgeon at the Vascular and Endovascular Surgery Clinic at UW Medical Center. Since joining UW Medicine in 2013, she has received a PRAISE Award and was named a rising star by the Institute of Translational Health Sciences.

Dr. Shalhub provides personalized care to patients suffering from rare vascular conditions. She believes in creating active partnerships with her patients to achieve the best possible outcomes.

Dr. Shalhub earned her M.D. and M.P.H. at the University of South Florida. Her clinical interests include treating aortic and peripheral arterial aneurysms and dissections in patients with genetically triggered vascular diseases.

Dr. Shalhub's research interests include the genetic basis of aortic and arterial aneurysms and dissections, elucidating the mechanism of rapid aneurysmal degeneration of the descending thoracic aorta post aortic dissection and vascular trauma management.
Personal Interests
In addition to providing care to her patients, Dr. Shalhub finds pleasure in hiking, alpine climbing and skiing.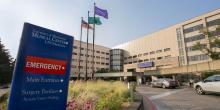 1959 NE Pacific St., 1st Floor Seattle, WA 98195
Minimally invasive surgery, Vascular malformations, Vascular surgery, Vascular/endovascular
The University of Texas Medical School at Houston
Teaching Appointment, 2014
UW - Dept. of Surgery
Fellowship, 2012, Vascular Surgery
UW - Dept. of Surgery
Residency, 2010, General Surgery
UW - Dept. of Surgery
Fellowship, 2008, Trauma Surgery
UW - Dept. of Surgery
Residency, 2006, General Surgery
UW - Dept. of Surgery
Internship, 2004, General Surgery
Univ. of South Florida College of Medicine
Medical education, 2003
Univ. of South Florida College of Medicine
Master Public Health
Board Certifications
Vascular Surgery, 2013, American Board of Surgery
General Surgery, 2011, American Board of Surgery