Biography
Stephen Seslar, M.D., Ph.D., is a board certified physician, co-director of Adult Congenital Electrophysiology at the Cardiology Clinic at UW Medical Center and a UW associate professor of Pediatrics.

Dr. Seslar is an expert in heart rhythm disorders and electrophysiology procedures. He strives to create active partnerships with his patients and their families to achieve the best possible outcomes.

Dr. Seslar earned his M.D. and Ph.D. from Georgetown University, Washington, D.C. His clinical interests include electrophysiology procedures, catheter ablation and cardiac rhythm devices. His research interests include cardiac stem cells to help prevent arrhythmias in hearts damaged by surgery or a heart attack, quality improvement registries and simulation training.
Personal Interests
In addition to providing care to his patients, Dr. Seslar enjoys home improvement projects and fitness training.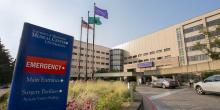 1959 NE Pacific St., 3rd Floor Seattle, WA 98195
Adult congenital heart disease, Advanced heart failure and transplant cardiology, Behavioral healthcare, Cancer care and your heart
Georgetown University School of Medicine
Medical education, 1996
University of California, San Diego
Teaching Appointment
Children's Hospital Boston
Fellowship
Univ. of Calif. San Diego
Internship
Univ. of Calif. San Diego
Residency
Board Certifications
Pediatric Cardiology, 2004, American Board of Pediatrics