Biography
Susan Ewers Spaulding, M.S., C.P.O., is a board certified prosthetist and orthotist and a UW lecturer of Rehabilitation Medicine.

Spaulding believes the best way to serve patients is to listen to them, learn their needs and help them understand the rehabilitation treatment plan.

Spaulding's clinical interests include pediatric orthotic treatment and upper limb prosthetic treatment of both adults and children. Her research interests include motion analysis, gait analysis and validity of measures related to orthotics and prosthetics.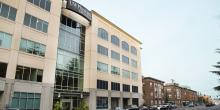 501 Eastlake Ave. E Seattle, WA 98109
Orthotics, Osteoporosis, Prosthetics