Biography
Thomas Treacy, P.A., is a physician assistant at the Cardiology Clinic at Harborview and a UW teaching associate of Surgery.??

Treacy assists on all cardiac surgery cases, as well as endoscopic saphenous vein and radial artery harvest. He believes in creating active partnerships with his patients to achieve the best possible outcomes.

Treacy earned his P.A. degree at Duke.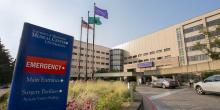 1959 NE Pacific St., 3rd Floor Seattle, WA 98195
Adult congenital heart disease, Advanced heart failure and transplant cardiology, Behavioral healthcare, Cancer care and your heart
Duke University Physician Assistant Program
Medical education, 1986