Biography
Todd Dardas, M.D., M.S., is a board certified physician at the Cardiology Clinic at UW Medical Center and a UW assistant professor of Cardiology and Medicine.

Dr. Dardas specializes in heart failure transplant cardiology. He sees patients with heart failure, advanced valve disease, ischemic heart disease, before and after heart transplants and with mechanical hearts. ??He strives to create active partnerships with his patients to achieve the best possible outcomes.

Dr. Dardas earned his M.D. from Case Western Reserve University, Cleveland, and his M.S. from the University of Michigan. He is board certified in both Cardiovascular Disease and Advances Heart Failure and Transplant Cardiology. His clinical interests include heart failure, heart transplant, mechanical hearts and left ventricular assist devices.His research interests include timing of advanced heart failure therapies, cost-effectiveness of heart failure therapies and diastolic heart failure.
Personal Interests
When away from medicine, Dr. Dardas enjoys hiking, photography and board games.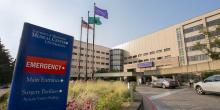 1959 NE Pacific St., 3rd Floor Seattle, WA 98195
Adult congenital heart disease, Advanced heart failure and transplant cardiology, Behavioral healthcare, Cancer care and your heart
UW - Division of Cardiology
Fellowship, 2013, Cardiovascular Disease
Univ. of Michigan, School of Public Health
Master, 2009
Univ. of Michigan Med. Ctr.
Residency, 2006, Internal Medicine
Univ. of Michigan Med. Ctr.
Internship, 2004, Internal Medicine
Case Western Reserve University
Medical education, 2003
Board Certifications
Advanced Heart Failure and Transplant Cardiology, 2014, American Board of Internal Medicine
Cardiovascular Disease, 2013, American Board of Internal Medicine