Biography
Wayne Levy, M.D., is a board certified physician and medical director UW Medicine's Regional Heart Center Cardiology Clinic. Dr. Levy is also program director of the Advanced Heart Failure/Transplant Cardiology Fellowship and a UW professor of Medicine and Cardiology.

Dr. Levy is an expert in right heart catheterizations, cardiac biopsies, heart failure management and cardiac transplant. He strives to create active partnerships with his patients to achieve the best possible outcomes.

Dr. Levy earned his M.D. from Loma Linda University, California. He is triple board certified in Advanced Heart Failure and Transplant Cardiology, Cardiovascular Disease and Internal Medicine. His clinical research focuses on risk modeling in heart failure, identifying patients who may derive greater benefit from implantable cardioverter-defibrillators and identifying patients and timing for left ventricular assist device implantation.
Personal Interests
When away from medicine, Dr. Levy enjoys traveling, hiking, boating, snow skiing and photography. He especially enjoys spending time with his family and friends.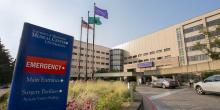 1959 NE Pacific St., 3rd Floor Seattle, WA 98195
Adult congenital heart disease, Advanced heart failure and transplant cardiology, Behavioral healthcare, Cancer care and your heart
Loma Linda U. School of Medicine
Medical education, 1985
Univ. of Washington
Fellowship, Cardiology
Univ. of Washington
Internship, Internal Medicine
Univ. of Washington
Residency, Internal Medicine
Board Certifications
Advanced Heart Failure and Transplant Cardiology, 2012, American Board of Internal Medicine
Cardiovascular Disease, 1991, American Board of Internal Medicine
Internal Medicine, 1988, American Board of Internal Medicine