Biography
Yonatan Buber, M.D., is a physician at UW Medicine's Regional Heart Center and a UW Associate Professor of Cardiology.

Dr. Buber specializes in treating adult patients with congenital heart disease and pulmonary hypertension. He strives to create active partnerships with his patients to achieve the best possible outcomes.

Dr. Buber earned his M.D. from Ben Gurion University in Israel. His clinical interests include all forms of congenital heart disease, pregnancy in women with heart disease, pulmonary hypertension and exercise physiology.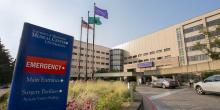 1959 NE Pacific St., 3rd Floor Seattle, WA 98195
Adult congenital heart disease, Advanced heart failure and transplant cardiology, Behavioral healthcare, Cancer care and your heart
Nationwide Children's Hospital
Fellowship, 2015, Adult Congenital Heart Disease
Boston Children's Hospital
Fellowship, 2014, Adult Congenital Heart Disease
Sheba Medical Center
Fellowship, 2012, Cardiology
Sheba Medical Center
Residency, 2008
Sheba Medical Center
Internship, 2005
Ben Gurion University of the Negev
Medical Education, 2004