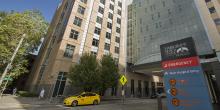 Gastroenterology Clinic at Harborview
Monday

8:00a - 4:30p

Tuesday

8:00a - 4:30p

Wednesday

8:00a - 4:30p

Thursday

1:00p - 4:30p

Friday

10:00a - 3:30p

Saturday

Closed

Sunday

Closed
410 9th Ave., 7th Floor, Seattle WA 98104
206.520.5000
206.744.6095
fax
Services
Clinic Services Header

Services offered at this clinic include:
Abdominal pain
Bile duct disorders
Diarrhea
Gastroenterology
Gastroesophageal reflux disease (GERD)
Heartburn/Gastroesophageal reflux
Pancreatic disease
Content Blocks
Sign up or Sign In: eCare
You're in control of your care with eCare, our online patient portal.
Clinic Overview
Body
Comprehensive digestive health care at Harborview Medical Center
The Gastroenterology Clinic at Harborview offers expert consultations and comprehensive care for a wide-spectrum of digestive disorders and problems of the gastrointestinal system. Our clinic features a dedicated inflammatory bowel disease (IBD) team to treat Crohn's disease and ulcerative colitis and an infusion center. Providers also have expertise in gastrointestinal motility and functional bowel disorders such as irritable bowel syndrome (IBS), esophageal and swallowing disorders, diverticular disease and diseases of the pancreas and bile ducts.
Our team aims to provide exemplary care with compassion. The quality of care provided at the Gastroenterology Clinic is evidenced by our adenoma detection rates (the most important quality measure for screening colonoscopy), which are among the highest in the country. Harborview is also one of the primary academic teaching institutions affiliated with University of Washington School of Medicine.
Directions & Parking
Please note: The mailing address for all buildings at Harborview Medical Center is 325 9th Ave, Seattle, WA 98104-2499.
Driving Directions
The Norm Maleng Building is adjacent to Harborview Medical Center (see
map
).
From Interstate 5:

Exit at James Street (#165A) in downtown Seattle.
Turn up the hill (east) onto James
Turn right onto 9th avenue.
Bus Directions:
Several bus routes of King County Metro Transit provide service to the Ninth and Jefferson Building. Use Metro's Trip Planner to learn which buses can get you there.
The Ninth & Jefferson Building has a multilevel underground parking garage, accessible from Terry Avenue, with spaces for 670 vehicles. Allow time to park before your appointment. The garages are busy.

Patient/Visitor Parking Rates
Self-Park
0-30 minutes: Free
30 -60 minutes: $4
1-2 hours: $5
2-4 hours: $7
4-6 hours: $12

6-8 hours: $15
8-24 hours: $20
Lost ticket: $20
Motorcycles: $3 per day (must park in designated spaces only)