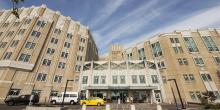 General Surgery Clinic at Harborview
Monday

8:00a - 12:00p

Tuesday

8:00a - 12:00p

Wednesday

8:00a - 12:00p

Thursday

8:00a - 12:00p

Friday

Closed

Saturday

Closed

Sunday

Closed
410 9th Avenue Maleng Building, 7th Floor, Seattle WA 98104
206.520.5000
206.744.4860
fax
Services
Clinic Services Header

Services offered at this clinic include:
Emergency medicine
General surgery
Trauma care
Content Blocks
Sign up or Sign In: eCare
You're in control of your care with eCare, our online patient portal.
Clinic Overview
Body
Complete pre- and post-surgery care and consultations at Harborview
The General Surgery Clinic at Harborview provides consultation for general and surgical conditions, as well as pre- and post-operative follow-up for patients with traumatic injuries, wound management and suture removal.
We also perform minor operations in our specially equipped ambulatory procedures area including cyst and skin tag removals, incision and drainage of abscesses, rigid sigmoidoscopies and hemorrhoid evaluation and management. Following an initial consultation, these procedures will usually be scheduled for a subsequent visit.
Clinic staff are available by phone until 4:30pm to answer your questions. 
Directions & Parking
Please note: The mailing address for all buildings at Harborview Medical Center is 325 9th Ave, Seattle, WA 98104-2499.
Driving Directions
The Norm Maleng Building is adjacent to Harborview Medical Center (see
map
).
From Interstate 5:

Exit at James Street (#165A) in downtown Seattle.
Turn up the hill (east) onto James
Turn right onto 9th avenue.
Bus Directions:
Several bus routes of King County Metro Transit provide service to the Ninth and Jefferson Building. Use Metro's Trip Planner to learn which buses can get you there.
The Ninth & Jefferson Building has a multilevel underground parking garage, accessible from Terry Avenue, with spaces for 670 vehicles. Allow time to park before your appointment. The garages are busy.

Patient/Visitor Parking Rates
Self-Park
0-30 minutes: Free
30 -60 minutes: $4
1-2 hours: $5
2-4 hours: $7
4-6 hours: $12

6-8 hours: $15
8-24 hours: $20
Lost ticket: $20
Motorcycles: $3 per day (must park in designated spaces only)