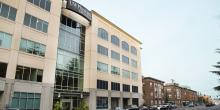 Prosthetics and Orthotics Clinic at Eastlake
Monday

8:00a - 5:00p

Tuesday

8:00a - 5:00p

Wednesday

8:00a - 5:00p

Thursday

8:00a - 5:00p

Friday

8:00a - 5:00p

Saturday

Closed

Sunday

Closed
501 Eastlake Ave. E, Seattle WA 98109
206.598.4026
206.598.4761
fax
Services
Clinic Services Header

Services offered at this clinic include:
Orthotics
Osteoporosis
Prosthetics
Content Blocks
Sign up or Sign In: eCare
You're in control of your care with eCare, our online patient portal.
Clinic Overview
Body
Consultation, design and fit for your stability and mobility needs
The Prosthetics and Orthotics Clinic provides spinal and upper and lower limb orthoses and prostheses to help patients recover from a lost limb, debilitating injury or disease. Patients are seen in our Eastlake Clinic or at Harborview in the Maleng Building on the 4th floor.
An orthosis is a brace that increases the stability of the spine or extremity. A prosthesis is an artificial limb that replaces an arm or a leg. We offer comprehensive consultation and custom design of orthotic and prosthetic devices to restore function and promote healing.
Our team of American Board certified prosthetists, orthotists, pedorthists, and orthotic fitters will craft prosthetic and orthotic solutions to address your unique mobility needs. We will work with you and your rehabilitation team to provide custom orthotics and prosthetics to meet the demands of everyday life and for specialized activity use.
The Prosthetics and Orthotics Clinic is also set up for texting. Text the clinic at 206.598.4026.
Directions & Parking
The Prosthetic and Orthotics Clinic is at 501 Eastlake Ave. E., just off Interstate 5 in Seattle. See map.
From Interstate 5:
Exit at Mercer Street and merge left.
Turn left onto Fairview Avenue, then left again at the first intersection, onto Republican Street.
Follow Republican uphill and turn left into the alley between Yale Avenue and Eastlake Avenue.
The alley is also accessible from the north. In that case, turn left at Yale, then right onto Mercer, and then look for the alley on your right.
Follow Pro Sports Parking signs to the underground parking garage.
Elevators to the third floor are located in the middle of the garage.
Handicapped-accessible parking is available.
Several King County Metro Transit bus lines serve this location. Visit the
Metro Trip Planner
to learn about options.
In addition, the South Lake Union shuttle transports patients and staff between UW Medical Center and the Eastlake Building. See the shuttle's
web site
for schedules and other information.
The Parking Garage is operated by ACE Parking and the fees are set by them. The fees are:
0-1 hour $ 5.00
1-2 hours $ 7.00
2-4 hours $ 12.00
4-8 hours $ 20.00
8-24 hours $ 26.00
Evenings / Weekends $ 6.00