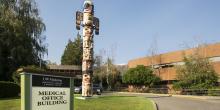 Regional Vascular Center at Northwest
Monday

8:00a - 4:30p

Tuesday

8:00a - 4:30p

Wednesday

8:00a - 4:30p

Thursday

8:00a - 4:30p

Friday

8:00a - 4:30p

Saturday

Closed

Sunday

Closed
1560 N 115th Street, Suite 106, Seattle WA 98133
206.668.8383
206.668.8399
fax
Services
Clinic Services Header

Services offered at this clinic include:
Carotid and iliac artery stenting
Carotid endarterectomy
First rib resection
Fistulograms with angioplasty
Saphenous vein ablation
TEVAR/EVAR (endovascular thoracic/aortic repair)
Varicose vein stripping
Content Blocks
Sign up or Sign In: eCare
You're in control of your care with eCare, our online patient portal.
Clinic Overview
Body
Advanced, minimally invasive vascular care in North Seattle
The Regional Vascular Center at Northwest Hospital offers a full complement of vascular services, each enhanced by the latest diagnostic and therapeutic technologies available today. With advanced-fellowship training and a multidisciplinary approach to care, this group of surgeons is uniquely equipped to tackle challenging diseases, acute and chronic alike.
Conditions we treat include peripheral arterial disease, claudication, critical lower limb ischemia, chronic venous disease, varicose veins, leg swelling, thoracic outlet syndrome, iliac artery aneurysm, carotid artery disease and stenosis, carotid aneurysm, dialysis access, peritoneal dialysis, fistula creation and maintenance and abdominal/thoracic aortic aneurysms.
We take a minimally invasive endovascular approach to peripheral artery disease. Common procedures we perform include carotid endarterectomy, TEVAR/EVAR (endovascular thoracic/aortic repair), varicose vein stripping, first rib resection, carotid and iliac artery stenting, saphenous vein ablation and fistulograms with angioplasty.
Directions & Parking
Driving Directions:
From I-5, take exit 173
Turn west on Northgate WayAt Meridian Avenue North, turn right (north)
Take the first left onto 115th Street
The main hospital entrance is on the right- note the North Entrance is inside campus. The North Entrance is open every day from 8 a.m. – 8 p.m.

If you need to enter the hospital after regular hours, please use the emergency room entrance.
For your convenience, Metro Route 345 provides direct campus service, dropping patients and visitors off at the entrance to the main tower on the main hospital campus. For more information about other routes and service to Northwest Hospital & Medical Center, please visit the Metro Transit website.
Find your bus route to:
The parking program at Northwest Hospital & Medical Center was introduced to make parking both faster and more accessible to our patients and visitors. The program helps ensure patients and visitors will find parking on campus that is convenient to their hospital destination.
Parking kiosks at the main entrance make it easy to ask for directions and provide an additional level of security at the hospital.Visitor and patient parking on the Northwest Hospital & Medical Center campuses is inexpensive. There is no charge for visitors who drive on campus to drop off or pick up family and friends (a grace period of 30 minutes or less is allowed). For those who are on campus for scheduled appointments or who will be visiting for longer periods of time, the rates below apply.
Some physician offices and clinics provide validation at no charge. Please check with your physician or clinic directly before arriving on campus to see if they validate parking. The following are the current rates for parking on the main Northwest Hospital & Medical Center campus and the Northwest Outpatient Medical Center.
| | |
| --- | --- |
| Length of Stay | Rate |
| 0 to 30 Minutes | FREE |
| 30 to 60 Minutes | $4 |
| 1 to 2 Hours | $6 |
| More than 2 Hours | $8 |
| All-Day Pass | $10 (includes in-and-out privileges) |
| Weekday Pass | $32 (includes in-and-out privileges) |
| Weekends | FREE |
These rates are effective 24 hours per day on weekdays on the main hospital campus and from 7:00 a.m. to 7:00 p.m. at the Northwest Outpatient Medical Center. Weekends are free on both campuses.